Hyperspectral Imaging (HSI) is the process by which many (i.e., >50) narrow (e.g., 2-10 nm) samples of the electromagnetic spectrum are collected. With so many samples collected a representative spectrum is gathered. These data can be either collected over reflected (400-3300 nm) or emitted (>3300 nm) light, or both. The result of collecting all these inidividual spectra is a cube which can be visualized as in Figure 1.
Figure 1
Reflected light is light that originates externally and impinges upon material's surface. This light is absorbed, transmitted, or reflected back. Since most light penetration is restricted to a few microns, reflected light contains information about the interactions of incoming photons with the surface material. Longer thermal infrared wavelengths (> 3300 nm) are dominated by emitted light. These are  thermal photons emitted by materials with a temperature above absolute zero.
The wavelength of the light dictates the resolution capabilities of the measured light. Shorter wavelengths (< 1000 nm) interact with an atom's electron cloud and absorbance features produced by this interaction are strongly dominated by intravalence charge transfer (IVCT). There are a number of diagnostic absorption features between 2000-2500 nm. Many of these are combinations and overtones from primary absorption features at wavelengths > 3300 nm. Thermal wavelengths (> 3300 nm) measure molecular bond properties, specifically bending, twisting, and stretching of molecules.

Scales for Imagery Data
(click on each image to enlarge)
Microscope
---
Handsample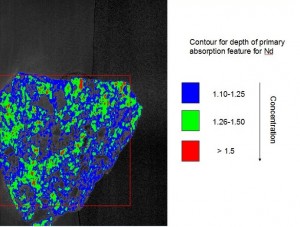 ---
Airborne
---
Satellite
Mtn. Pass, California
---
Bayan Obo Mine, China
---